Patrick J. Kennedy Updates & Activities

This month, Patrick helped to kick off the Kennedy-Satcher Center for Mental Health Equity (KSCMHE) at Morehouse School of Medicine's new series of virtual roundtables to address inequities that affect justice-involved individuals. In the series, expert panelists—representing a diverse, inclusive, and unique set of voices in the field—share perspectives on topics including policy implementation and data, behavioral health equity and incarceration, trauma-informed systems for justice-involved populations, re-entry programs and reducing recidivism, and housing access and environmental support systems. Watch a recording of the first session below.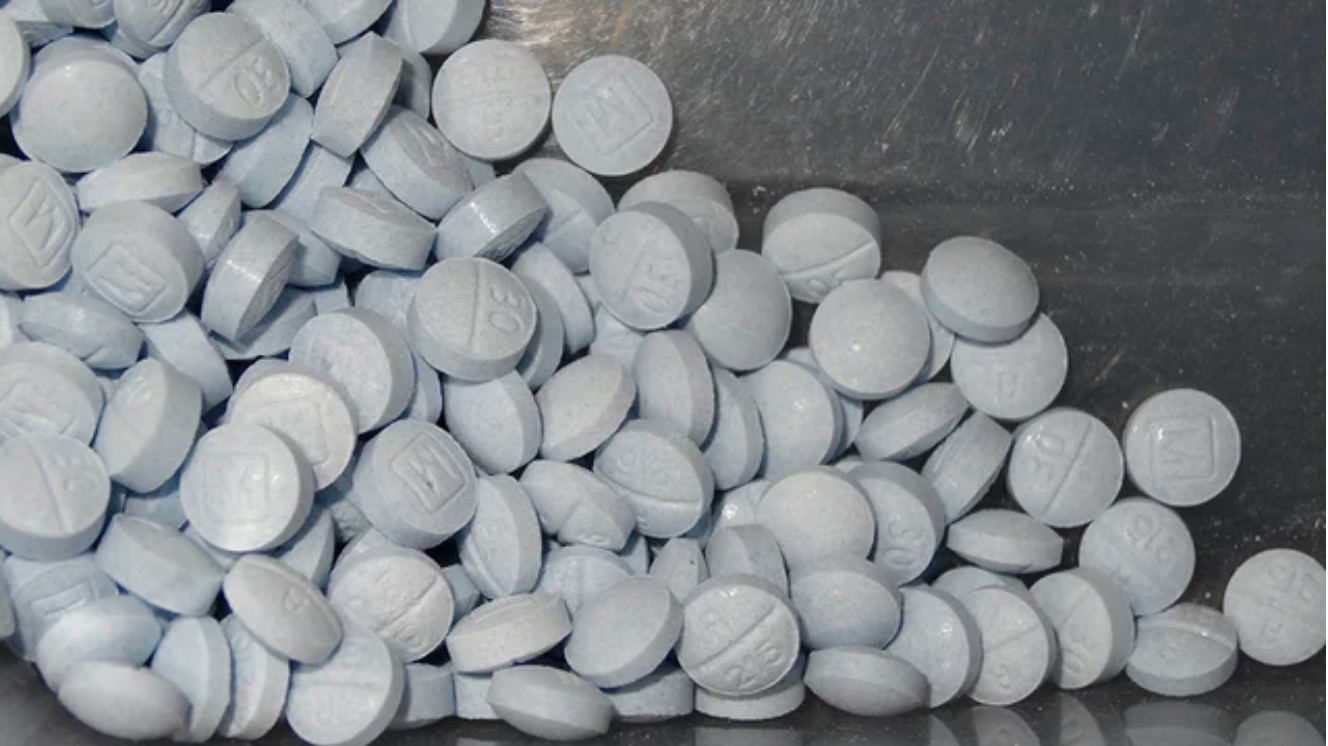 Patrick Kennedy and Ryan Hampton outline key steps for reversing the overdose crisis in a new op-ed addressing inaction from the Biden Administration.

A new report from U.S. Department of Labor, U.S. Department of Health and Human Services, and U.S. Department of the Treasury provides damning evidence that health plans continue to be out of compliance with the Federal Parity Act. "We now have solid data to show that practices such as denying coverage for autism treatment, nutritionists for individuals with eating disorders, and Medication-Assisted Treatment (MAT) for opioid use disorder are indeed commonplace. To combat this growing problem, The Kennedy Forum echoes DOL's call for Congress to pass language included in the House-passed Build Back Better Act that would allow the Department to fine health plans for such blatant parity violations." Read Patrick J. Kennedy's full statement here.
The Kennedy Forum recently sent a letter to Health and Human Services Secretary Xavier Becerra urging CMS to update the Medicaid School Health Technical Assistance Guide and Administrative Claiming Guide so schools can be better equipped to address the youth mental health crisis. These guides, outlining how schools can bill Medicaid, haven't been updated since 1997 and 2003 respectively. These outdated instructions create confusion and add barriers for schools that use Medicaid to fund mental health services. Read the letter here.
End Substance Use Disorder
is
a coalition that engages respected changemakers from across the country to educate the public and secure reforms proven to prevent overdoses and stem the tide of the substance use disorder crisis. The group is asking everyone to
urge Congress to pass the Mainstreaming Addiction Treatment Act
(H.R. 1384 / S. 445).
The law would eliminate outdated restrictions on prescribing the lifesaving recovery medication buprenorphine and expand access to education on best practices for treating substance use disorder. Follow directions to email your representatives
here
.
The Health Resources and Services Administration accepted updates to existing
Bright Futures
guidelines that include adding universal screening for suicide risk to the current Depression Screening category for individuals ages 12-21, and new guidance for behavioral, social, and emotional screening. The
Bright Futures Program
develops
evidence-informed guidelines for preventive care screenings and routine visits
for newborns through adolescents up to age 21. Learn more
here
.
This month, The Kennedy Forum led a group of national advocacy organizations—including NAMI, MHA, Legal Action Center, Families USA, National Health Law Program, and Inseparable—in providing comments on CMS' proposed network adequacy standards. Read the letter here.
ICYMI: The Kennedy Forum was pleased to see the
Boston Globe's recent editorial addressing the Medicaid Reentry Act
(included in the Build Back Better bill), which would allow Medicaid to start covering individuals 30 days prior to their release from jail or prison, a critical step toward
ensuring continuity of care for incarcerated individuals
upon release. "When people are released from prison, they face a much greater risk of experiencing serious health issues or dying than the general population — especially in their first two weeks back in free society. That's in part because people who are incarcerated are already more likely to suffer from health problems, ranging from diabetes to mental illness to substance use disorder. But it's also because upon release from prison, coming across medical care or treatment is not easy. In some cases, people will lose access to potentially life-saving medication altogether." Read the full editorial
here
.
ACT Now for Mental Health (ANMH) has launched a low-cost provider network. They are offering FREE telehealth therapy services on a limited basis to young adults ages 17-30, especially those who have been historically underserved by the health care system. Sign up here.
Have you or someone you know had a hard time finding mental health or addiction care that your insurance will pay for? Or a provider who doesn't have a long waitlist? If so, please take this important survey from NORC at the University of Chicago. Your confidential responses could help drive policy change that would make a difference for everyone. The survey is available in English or Spanish and takes about 5 to 15 minutes to complete. You can respond for yourself or on behalf of someone you know, such as a family member, friend, or a patient. Get started.
This month, Owl announced that it is joining forces with Holmusk, a leading global data science and digital health company, to enable improvements in real-world data for patients with major depressive disorder. This exciting partnership could accelerate the process of finding new treatments. It will leverage real-world data from Owl's advanced measurement-based care platform and Holmusk's proprietary natural language processing models. Learn more here.
meQuilibrium—a clinically validated resilience platform leveraging behavioral psychology, neuroscience, and analytics—was featured in a Shortlister article about how companies are addressing mental health in the workplace. "The next decade will be exemplified by organizations trying to stem the mental illness tide. To be successful, they will need to get to the root cause. They will need to renegotiate the basic employer-employee social contract. They will need to equip their people with the tools of resilience. They will need to work on creating corporate cultures of resilience from top to bottom. The next twelve months will determine which organizations emerge on the right side of history and which do not." Read the article here.
In support of the Satcher Health Leadership Institute's (SHLI) commitment to create systemic change at the intersection of policy and equity, the Health Equity Tracker (HET) team is excited to announce the expansion of the health outcomes offerings of the tracker through the creation of a "Behavioral Health" category and the addition of six (6) indicators: Frequent Mental Distress, Depression, Suicide (Deaths), Illicit Opioid Use, Non-Medical Drug Use, and Alcohol Use (Excessive Drinking). More here.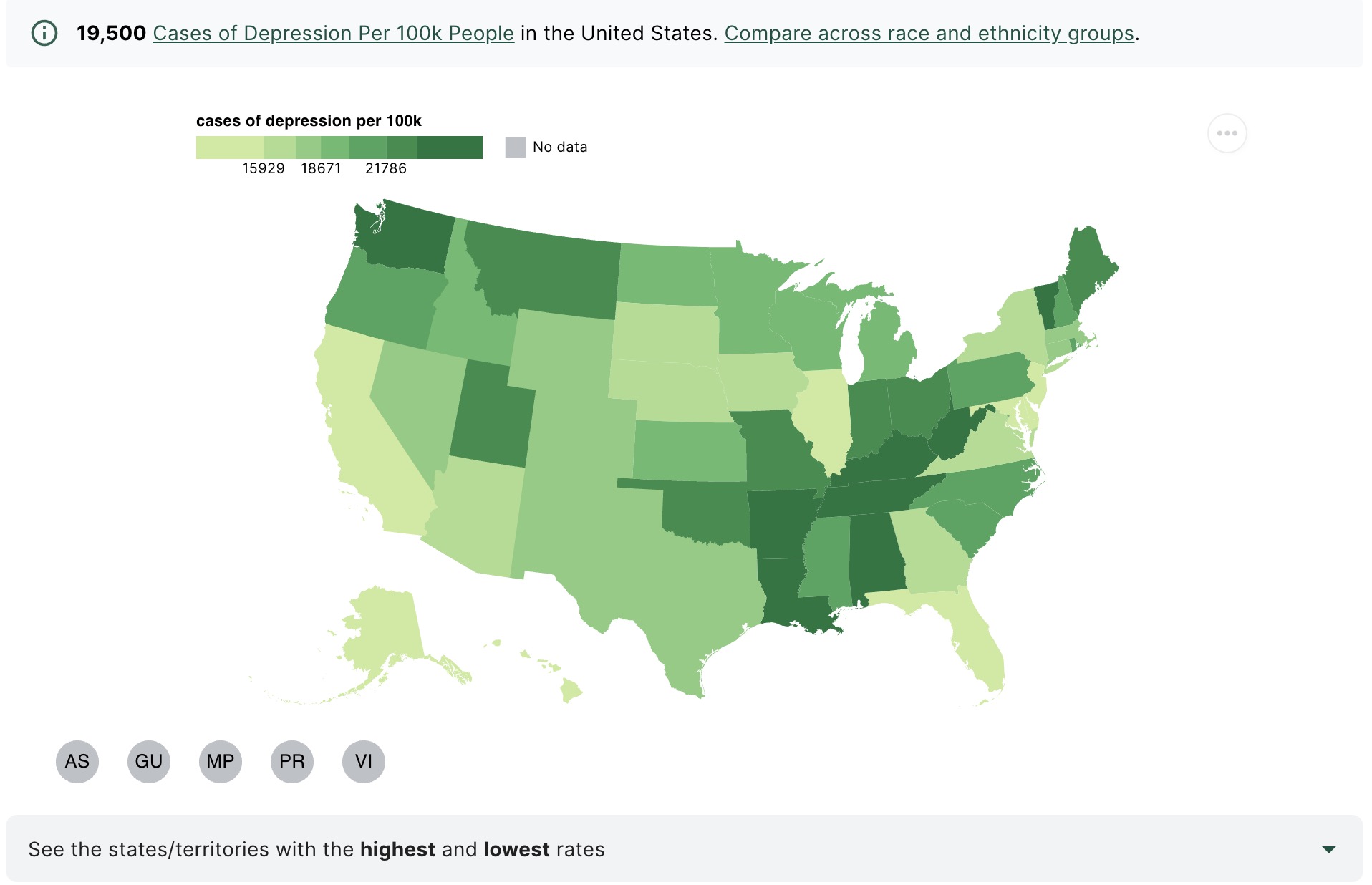 Image of the Health Equity Tracker map
In a new blog post, Amy Kennedy, education director of The Kennedy Forum, discusses
state efforts to address mental health staffing shortages in schools
. "Because schools already do their best to facilitate mental health services for many children—and have the most face-time with America's youth—it's critical that we invest in additional resources and a strong infrastructure of support that includes an adequate number of mental health professionals onsite." Read the full blog post
here
.
Effective School Solutions
(ESS), a leading provider of embedded whole school mental health services, and the
Madison Holleran Foundation
recently announced the
3rd Annual Madison Holleran Mental Health Action Scholarship
. Madison Holleran was a 2013 graduate of Northern Highlands Regional High School in Allendale, NJ, where she excelled in academics as well as being a stellar athlete. She went on to attend the University of Pennsylvania and was a member of the track team. Tragically, Madison took her own life during the spring semester of her freshman year. ESS and the Madison Holleran Foundation have named this scholarship in Madison's memory to not only
drive awareness about suicide prevention, but also to hear from high school students about innovative approaches
they believe their schools can take to help young adults navigate through the mental health challenges they are facing. Learn more
here
.
A new CDC study published in
LGBTQ Health
demonstrates the
positive impact that implementing school policies and practices supportive of LGBTQ youth has on the psychosocial health of youth
who identify as lesbian, gay, or bisexual (LGB)
and
on their heterosexual peers. LGBTQ-supportive school policies and practices that promote protective factors include:
Gender and Sexuality Alliances or Gay-Straight Alliances
(GSAs);
Safe spaces
where LGBTQ youth can get support from school staff;
Policies prohibiting sexual and gender identity-based harassment;
Professional development for staff
on LGBTQ-related issues;
LGBTQ-inclusive curricula
; and Access to LGBTQ-friendly social, psychological, and
health services outside of school
. Read about the study
here
.

In his latest blog post, Patrick explores the importance of shortening the gap between breakthrough science and implementing findings in routine mental health care. Read it here.
Patrick and Ryan Hampton's new op-ed in The Hill, "A year into Biden's presidency, we're only burying more overdose victims," addresses four key components necessary for a more strategic, coordinated response to the overdose crisis. "The most powerful tool would be triggering emergency declarations for states under the Stafford Disaster Relief and Emergency Assistance Act, an action that was recommended to President Trump by the Opioid Commission in 2017." Read more here.
The Kennedy Forum's David Lloyd penned an op-ed for CalMatters in support of AB 933, a bill that would address cost barriers that so frequently prevent people from getting help. "By requiring that at least 90% of prescription drug rebates go back to patients, the state can lower medication costs for Californians and ensure more dollars go toward direct patient care…People living with mental illness, and all Californians faced with health issues that require prescription medications, will benefit greatly." Read the op-ed here.
On January 18, Patrick joined the Kennedy-Satcher Center for Mental Health Equity's new webinar series, "Criminal Justice and Equity: Bridging the Gaps." The first session explored Policy Implementation & Data Use. Learn more and watch a recording here.
February 1, 2022
The Clinton Foundation, the Johns Hopkins Bloomberg School of Public Health, and The Centre for Responsible Leadership are convening national science and faith leaders to explore the promise of a collaborative relationship; reduce stigma about addiction; educate about prevention, treatment, and recovery; and advance policies and programs that save lives. Participants for this session include President Bill Clinton, Patrick J. Kennedy, Dr. Chinazo Cunningham, Rabbi Arthur Schneier, H.E. Dr. Mohammad Abdulkarim Al-Issa, Ellen J. MacKenzie, Ph.D., ScM, and Shannon Frattaroli, Ph.D., MPH.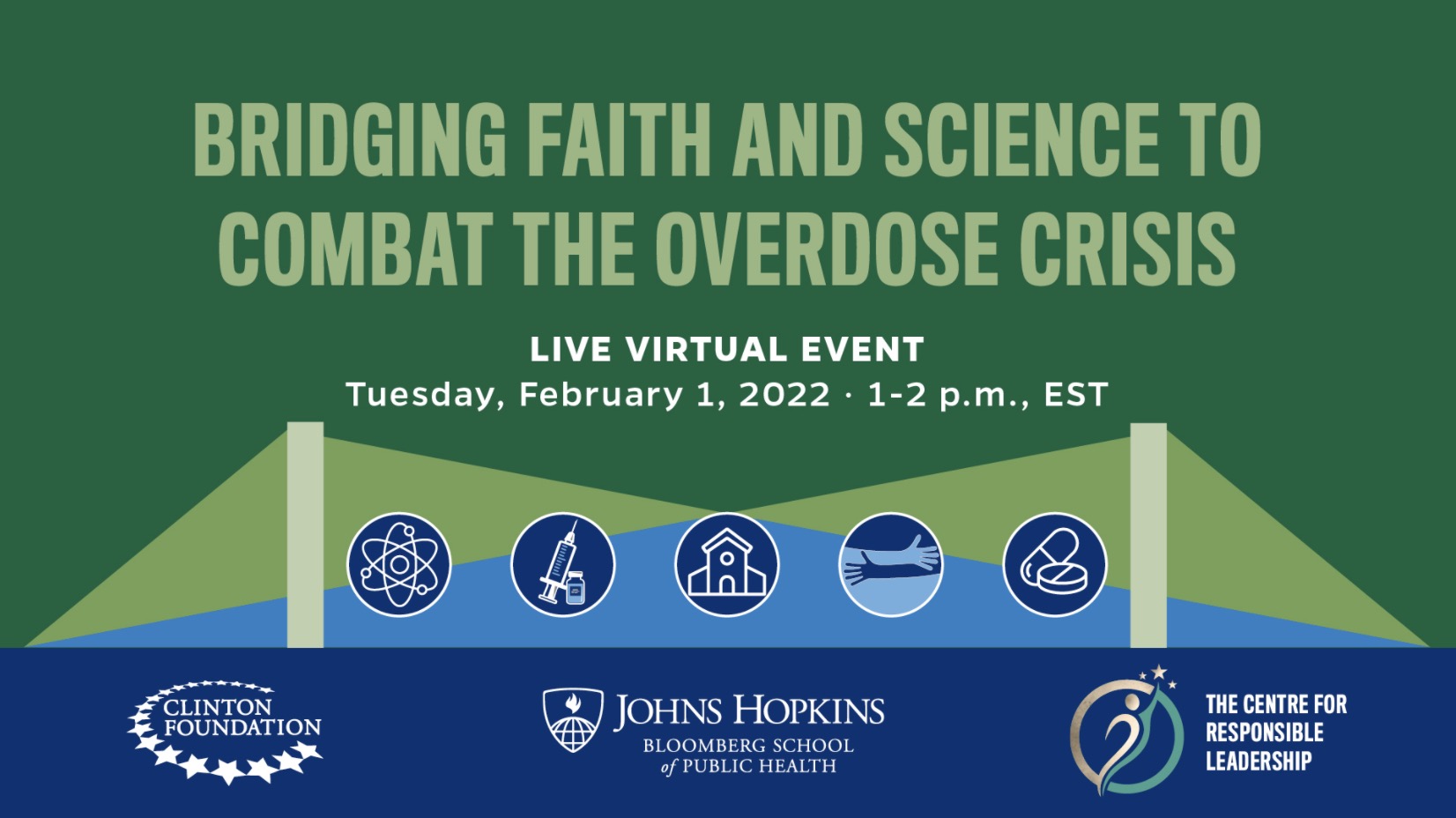 February 10, 2022
This premier employee benefits event will feature a keynote address by Patrick, entitled "My Journey: Making Mental Health Essential Health."
Criminal Justice and Equity: Bridging the Gaps
(Part 2) Behavioral Health Equity and Incarceration
February 15, 2022
The second session of the Kennedy-Satcher Center for Mental Health Equity's five-part webinar series,
"Criminal Justice and Equity: Bridging the Gaps,"
on the landscape of inequities that affect justice-involved individuals.
March 24-26, 2022
Join health care professionals from around the world for this unique virtual opportunity to enhance knowledge and improve patient outcomes. U.S.-based and international experts will discuss the latest advances in the diagnosis and treatment of a wide range of psychiatric illnesses, debate controversies in the field, and share clinical knowledge.
Patrick's featured keynote: "The Pursuit of Mental Health Equity,"
will air March 24th at 10AM EST.
Take care and please feel free to reach out if you'd like to connect about our work.